Client 2
I am a second language speaker. I spent the last 3 years waiting for an agent who can handle my impatience & fear etc. till i started communication with Mark online. Honesty, patient & loyal what drove me to sign with him. Sold my place in 20 days, admire his loyalty to his job & congratulate the Windermere for having professional agents as Mark.

Client 1
I'd like to thank Mark again for his help & efforts. I'll be back when we're ready to purchase and have already referred two couples. Thanks Mark!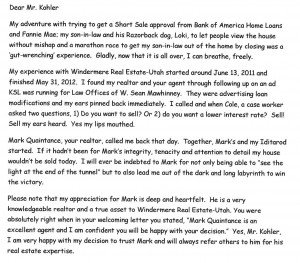 Client Letter
Dear Mr. Kohler,
My adventure with trying to get a short sale approval from Bank of America Home Loans and Fannie Mae; my son-in-law and his Razorback dog, Loki, to let people view the house without mishap and a marathon race to get my son-in0law out of the home by closing was a 'gut-wrenching' experience. Gladly, now that it is all over, I can breathe, freely.
My experience with Windermere Real Estate - Utah started around June 13, 2011 and finished May 31, 2012. I found my Realtor and your agent through following up on an ad KSL was running for Law Offices of W. Sean Mawhinney. They were advertising loan modifications and my ears pinned back immediately. I called and when Cole, a case worker asked two questions, 1) Do you wand to sell? 2) do you want a lower interest rate? Sell! Sell my ears heard. Yes my lips mouthed.
Mark Quaintance, your Realtor, called me back that day. Together, Mark's and my iditarod started. If it hadn't been for Mark's integrity, tenacity and attention to detail my house wouldn't be sold today. I will ever be indebted to Mark for not only being able to "see the light at the end of the tunnel" but to also lead me out of the dark and long labyrinth to win the victory.
Please not that my appreciation for Mark is deep and heartfelt. He is a very knowledgeable Realtor and a true asset to Windermere Real Estate - Utah. You were absolutely right when in your welcoming letter you stated, "Mark Quaintance is an excellent agent and I am confident you will be happy with your decision." Yes, Mr. Kohler, I am very happy with my decision to trust Mark and will always refer other to him for his real estate expertise.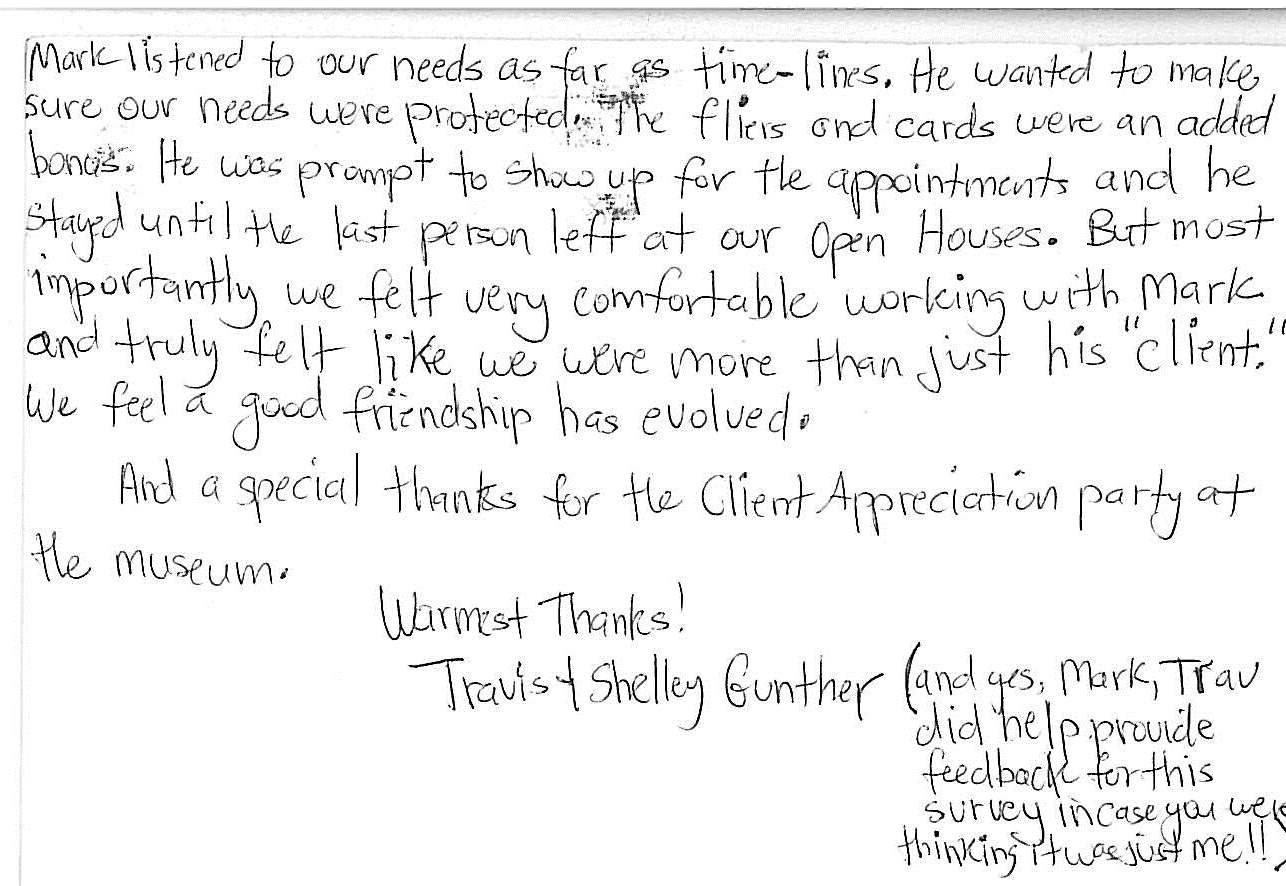 We Were Pleasantly Happy with our Selling Experience!
Mark in our opinion went way above the call of duty. He willingly spent hours with us prior to listing our home, educating us about the market, the selling process, as well as shoed us several homes so we could see what the market was like. He offered several times to help with any repairs. He often would call or stop by and visit us to give his opinion on the fixes on our home or to bring us new listings to look at. He was very responsive to our texts/and diligently searched out answers to our questions. We were happy with the photographer and Mark always attended every appointment (inspection, walk-through, appraisal. Mark listened to our needs as far as time-lines. He wanted to make sure our needs were protected. The fliers and cards were an added bonus. He was prompt to show up for the appointments and he stayed until the last person left at our Open Houses. But most importantly, we felt very comfortable working with Mark and truly felt like we were more than just his "client." We feel a good friendship has evolved. And a special thanks for the Client Appreciation party at the museum. Warmest Thanks!

Great Job!
Thanks! Mark - great job!

Understands the Real Estate Process
Mark understands the real estate process very well and is a good guy.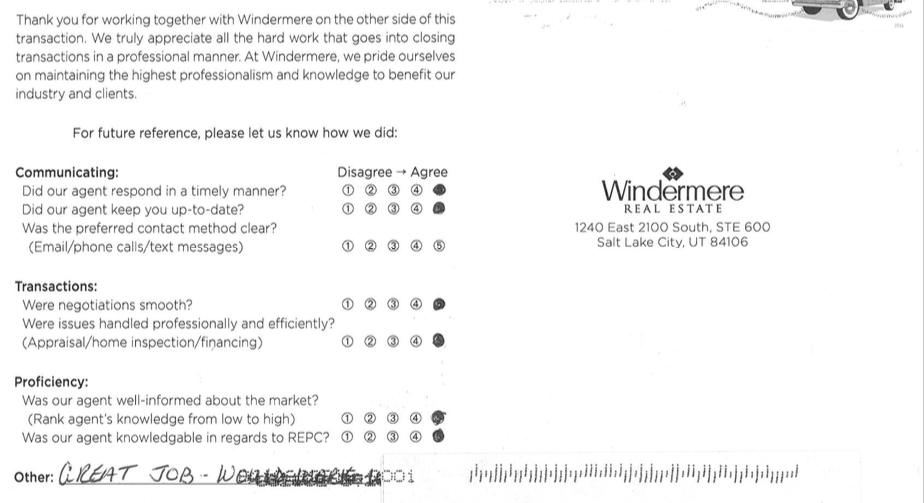 Excellent
Great Job- Would work with him again!